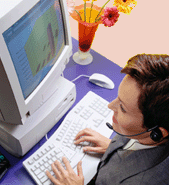 Support Policy
After the product's registration, we will provide all our customers with unlimited technical support free of charge.
Unregistered users will also be supported during their trial period. Just bear in mind that registered users take precedence over unregistered ones.
Technical support offered on our product is intended for problem resolution only. We do not provide complete system walk-thru service to teach you every software feature step by step. For learning the system step by step, please consult with our user manual.
We are constantly researching new technologies and ways to improve our product. Such enhancements, when released, are posted to all our registered users as software updates at no extra cost.
Technical support is provided in English. We also offer support in Spanish upon request.
While we organize and train our live operators to take national and international calls with technical questions, all customer support will only be provided via e-mail.
So, for technical and sales inquiries please contact us.